Cat`s claw or uña de gato, amazon bark, traditional uses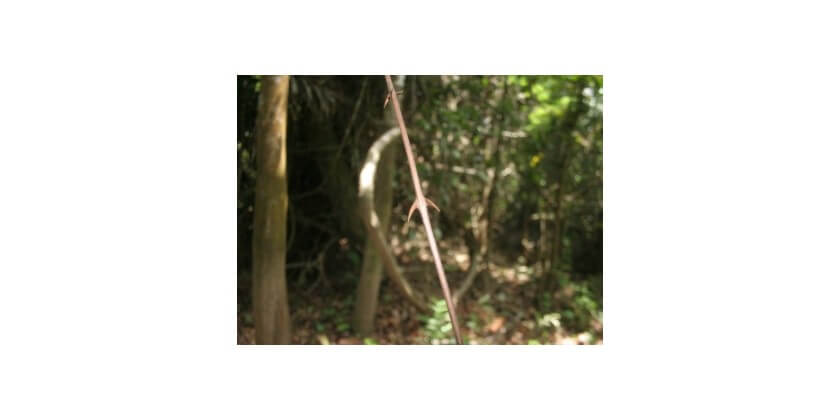 Scientific name: Uncaria guianensis (Aubl.) or Uncaria tomentosa (Wild) DC
BotanicalFamily: Rubiaceae
BOTANICAL DESCRIPTION
Both species are similar in many respects, both are climbing shrubs, thick woody stems with massive thorns, sturdy and U shaped, (guianensis) and straight in the case of. (tomentosa).
Measuring up to 20 meters tall. Presenting whole leaves of 9-17 cm yellowish green on top and pale green on the underside, with fine characteristic hairs
TRADITIONAL USES:
As an aphrodisiac, tonsillitis, contraception, anti-dysentery, anti-inflammatory, anti-oxidant, anti-viral, in arthritis, asthma, and healing of gastric ulcers, for cirrhosis, as a cleanser, in diabetes, diuretic in diseases of the skin against stomatitis, gastritis, against STIs (gonorrhea), vaginal inflammation (decreases) as immune modulator, for snakebites, for prostatitis, for strengthening the immune system, rheumatism and tumors.
Traditional Use: To counter inflammation, thus reducing swelling and redness in the affected area.
Preparation: Boil two tablespoons of chopped bark from the cat's claw, add to a half litre of water.
Administration: Oral. Dosage: Take three prepared cups daily, before meals, for two consecutive months. Recommendations: to be prepared and consumed within 24 hours of preparation. Diet: Keep still, avoiding any type of physical exertion. Don't drink liquor.
For arthritis and rheumatism
Traditional Uses: Relieves pain, swelling, stiffness and heats the joints and reduces pain and inflammation in muscles and tendons.
Preparation: Place one litre of water in a pot and add 200 grams of dried, cleaned and chopped bark, cut into small pieces and boil for a few minutes, until it has the coloration of tea, cool and strain.
Administration: Oral. Dose: The first day, one cup (about 200 milliliters).The second day, one cup in the morning and one in the evening.The third day, drink a cup in the morning, and the afternoon and also the evening, do this for fifteen consecutive days until the alleviation of the symptoms. Diets: Keep still during treatment, rest, avoid bathing in the river; don't get wet with rain water; no physical effort. Avoid fermented foods, liquor, pepper and butter. Recommendations: The preparation and use are daily.
Traditional use: It prevents the development of cancer cells.
Preparation: Boil two tablespoons of shredded bark in a half litre of water.
Administration: Oral.
Dosage: Take three cups of prepared daily before meals for three months.
Diet: Avoid eating grilled sausages and grilled meats as they contain substances that may be carcinogenic.
Recommendations: Increase consumption of fruits and vegetables. It is prepared and used within 24 hours.